by

Gina Otto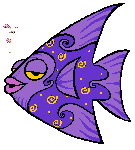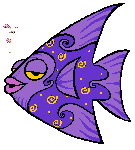 Back to Table of Contents
Most Internet Field Trips highlight several web sites selected and evaluated by their authors. Internet Field Trips are designed "primarily as a lesson planning tool for the teacher, but...also consider using them as guided research for students beginning to use the Internet independently."

ADVENTURE LEARNING FOUNDATION - http://questconnect.org/
This site takes students and teachers on real and virtual expeditions around the world. Through a collection of original pictures and journal excerpts, visitors can accompany travelers exploring the natural environment, culture, and peoples of different continents. Past expeditions include Alaska and Yukon, Baja California, American Southwest, and Southern Africa. Each expedition is accompanied by a mixture of information, links, and classroom activities.
A. PINTURA: ART DETECTIVE - http://www.eduweb.com/pintura/
This site combines art history and a detective mystery to present art as a body of knowledge. The Case of Grandpa's Painting is like a 1940's movie, and it entirely depends on the choices you make as the story unfolds. You'll learn lots and be surprised at how much you already know. A must see.
CAMPUS TOURS - http://www.CampusTours.com
Campus Tours is for students who are planning ahead for college, or for people who just want to see what other places look like. Colleges are listed by U.S. state; links can lead to VR tours (Virtual Reality), streamed video, or a website.

CASTLES OF WALES - http://www.castlewales.com/home.html
Take a trip to Wales and visit its castles.Along the way we hope to educate and enlighten you about not only Welsh castles, but about the unique history of the Welsh people and their centuries-old struggle to preserve their land, their culture, and their ancient language. Take a virtual tour of several castles.

<>
CHICHEN ITZA - MYSTERIES OF THE MAYA - http://www.mysteriousplaces.com/mayan/TourEntrance.html
Hidden by the jungle for hundreds of years the great cities of the Maya are being reclaimed. Exactly why this civilization collapsed is still a mystery. One of the greatest of the Mayan sites and the most fully restored is the huge site of Chichen Itza. Come take a journey through this fascinating place.

"CONGRESS FOR KIDS" -- http://www.congressforkids.net .
"Congress for Kids" links students of all ages to Internet-based, interactive activities that "teach" about Congress, the federal government, and civic duty.


DARK AGES FIELD TRIP - http://www.tramline.com/tours/ss/darkages/_tourlaunch1.htm
A tour of Medieval times written by a sixth grader.


<>D.C PAGES: VIRTUAL TOUR OF THE NATIONAL MALL - http://dcpages.com/Tourism/
Take a virtual 360 degree spin around ten monuments and museums of the National Mall, courtesy of D.C. Pages. For tourists, each monument includes hours of operation and a phone number. For cyber-travelers, the Zoom viewer let you control the vantage point (zoom in, zoom out, spin, and stop) of each picture.



EARTH TRIPS BY TIME AND SPACE

- http://www.priweb.org/ed/earthtrips/earthtrips.html
Paleontological Research Institute. "This exercise will allow you to discover the raw information of earth science in the same way professionals do - from field exploration! Select a virtual fieldtrip. You may explore by time (period) or by space (locality). "


EDUCATIONAL WEB ADVENTURES - http://www.eduweb.com/portfolio/adventure.php
Explore the world of art, history and science. Check the left-hand side or by subject matter or grade level at the top.

<>FBI KIDS PAGE -

http://www.fbi.gov/fun-games/kids/


Two different sites for kids. The first site is for grades K-5 and is set up in a Field trip format. Pretty extensive overview of fingerprinting, DNA, jobs at the FBI considering the audience. Ends with a cross word puzzle review. The second site, for 6-12 students, follows various cases from through a variety of scenarios. Special Agent Challenge requires answering factual questions about the FBI. Working dogs describes jobs dogs play in bomb sniffing, etc. Games too.


FLORENCE ITALY - http://www.italyguides.it/us/florence/florence_italy.htm
Virtual travel through the Renaissance city of Florence. Even has free audio guides of Florence for your iPod, iPhone or mp3 players. check out the interactive map of Florence too.


GALAPAGOS GEOLOGY ON THE WEB. - http://www.geo.cornell.edu/geology/Galapagos.html
"For those interested in natural history, there are few places quite as facinating as the Galapagos. The intention of this web site is to provide information on the Galapagos Islands to both scientists and non-scientists alike. Charles Darwin was the first geologist to explore the Galapagos. He made many important observations of Galapagos geology and drew conclusions that remain valid today."


GRAND CANYON EXPLORER - http://www.bobspixels.com/kaibab.org/geology/gc_geol.htm
Explore the Grand Canyon, get important information and see pictures of fossils, among other things. Great!


HISTORY MYSTERY - http://teacher.scholastic.com/histmyst/
MY FAVORITE!! Become a great investigator of history! Professor Carlotta Facts, challenges you to solve the History Mystery! If you figure out the mystery in fewer clues, you earn a higher title as an investigator. So choose a game and play!


ICELAND - http://serc.carleton.edu/resources/22685.html
"This virtual field trip to Iceland explores the glacial, volcanic, and cultural and environmental history of the island. Users select a field trip topic and choose between a two day, one week, or two week expedition. Each field trip provides objectives for learning, background reading, and site 'visits' through a collection of photographs and mini-lectures. Students are encouraged to take notes and quizzes are offered at the conclusion of the two day field trips. The site also features glossaries of geologic terms and Icelandic words."


NEWTON'S CASTLE -

http://www.mmischools.com/Articles/Cyberbee-Web-Pick/Cyberbee%27s-Web-Picks/Newton%27s-Castle-58621.aspx
Although it is dated 2005, this is a stimulating journey into the revelations of Sir Isaac Newton. Learn about his discovery of Gravity and Optical Theories. Learn why cars roll uphill, why dogs chase cars and all about Newton's secret library. Learn about color, optical illusions, and observations from nature. Take the quiz and get a perfect score to gain access to the treasures contained in the Museum of Modern Art gallery.

<>

SALEM WITCH TRIALS

- http://school.discoveryeducation.com/schooladventures/salemwitchtrials/
A K5-8 interactive study of the trials - here is an excerpt from the teacher tips: "Think You Know the Whole Story? Introduce this project by brainstorming what students know and would like to know about the Salem witch trials. When did they occur? How long did the trials last? Who was responsible for the accusations? What happened to the victims? Why were certain people accused? What was the age and gender of the accused witches? What was the evidence used to convict the accused? What brought an end to the trials? Keep this list on a board in the classroom. After you've explored the project with your class, return to the list. Were their initial impressions of the witch trials correct? What were they most surprised to learn?"



SECRETS OF EASTER ISLAND -

http://www.pbs.org/wgbh/nova/easter
This is the story of a team of archaeologists and a 75-person crew who sought to unravel a central mystery of Easter Island: how hundreds of giant stone statues that dominate the island's coast were moved and erected. For one month, the team struggled to raise a 10-ton moai, using only the tools and materials available to the ancient Easter Islanders.

<>

SURFAQUARIUM VIRTUAL FIELD TRIPS -

http://surfaquarium.com/IT/vft.htm



<>VIRTUAL FIELD TRIPS AROUND THE WORLD - http://www.techtrekers.com/virtualft.htm



VIRTUAL OCEAN -

http://www.virtualocean.org/


This is part of the website "An Introduction to Microscopy." These pages show what sea creatures can look like in larval form, as well as microscopic algae, sea squirts, and other smaller, often overlooked sea dwellers. Included on the main page is a link to "The Smallest Page on the Web." which highlights microscopic life in fresh water.

<>VIRTUAL REALITY AND OTHER EXPERIMENTS - http://www.uh.edu/~jbutler/anon/quick.html
I love the Hawaiian Beach and Wind River Visuals.




A WALK THROUGH HISTORY - http://www.bbc.co.uk/history/walk/games_index.shtml
From the BBC, students can walk through a Roman street, a Tudor Street, a Victorian Street, a Viking house and a 1950s living room, then click on the things that don't belong there.



Another way: Virtual Field Trips on your iphone or ipad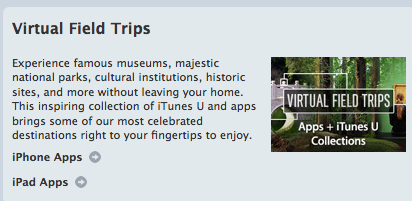 Last updated OJune 2018

Back to Top

Back to Table of Contents

See Also Innovative Lesson Sites and Projects on Line