K-3 Teachers
Can Use the Internet Too
by
Gina Otto*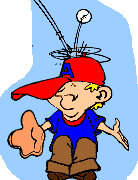 Back to Table of Contents
COOL SITES
AAA MATH - http://www.aaamath.com
ALSO HAS SPELLING! This site contains hundreds of pages of basic math skills, interactive practice, an explanation of the math topic on each page, several challenge games and randomly created math problems from K to 8. The site is arranged by grade level or math topic -- cool.

ABCya! - http://www.abcya.com/
This site is a fun way for elementary students to learn using web-based ncorporate content areas such as math and reading while introducing basic computer skills. Click the teachers' link for information on how to use in the classroom.

ACTIVITY PAD - http://www.activitypad.com/
Activity Pad offers printable preschool activities, word search puzzles, mazes, kid games and more to help children learn and have fun!

ALICE IN WONDERLAND, AN INTERACTIVE ADVENTURE - http://www.ruthannzaroff.com/wonderland/
A wonderful world of Lewis Carroll. So many different activities, like Alice's Guessing Game (hangman type), Help Distract the Puppy (a draw/color activity) - for all ages.


ART SITES FOR KIDS - hhttps://www.ginaotto.com/ArtSites.html
An exciting listing of art activities' sites for kids, compiled by Gina Otto.


ALPHABET FUN!

- http://www.billybear4kids.com/games/online/alphabet/abc.htm
Billy Bear's online Alphabet Games are interactive fun. Kids need little "musing skills" to be able to play. The simplest games are initial consonants; later games include finding letters on the keyboard, and typing in missing letters from words with pictures.

A TO Z THEMES AND THEMATIC UNITS - http://atozteacherstuff.com/themes/
Need help building a unit? These themes feature quality links to thematic units & lesson plans, resource pages, book activities, books, and professional resources organized by theme.

BEMBO'S ZOO - http://www.bemboszoo.com/
"A is for antelope, B is for Bison, C is for crab." Watch each letter of the alphabet transform into a wild animal right before your eyes and ears. Based on the book of the same name, by graphic artist Roberto de Vicq de Cumptich, this Flash animation is for all ages.
BEN'S GUIDE TO U.S. GOVERNMENT - http://bensguide.gpo.gov
Choose a grade level to explore from K to 12, then a topic from the page. The guide includes information and games and activities, as well as government web sites for kids.
BOOWA & KWALA - http://www.boowakwala.com/kids/boowakwala-navigation-games.html
Musical games, guessing games, spot the difference, cooking. There are 818 games on this link from preschool up, from uptoten.com

BRIGHT IDEAS FOR WRITING GRADES 1-2 AND 3-5 - http://www.eduplace.com/kids/hme/k_5/brightideas/


BUSY TEACHER'S CAFE - A K-6 TEACHER RESOURCE WEBSITE - http://www.busyteacherscafe.com/
This is a K-6 resource website for busy teachers like you! Here you can find free worksheets, lesson plans, management ideas, great links, tips, and more!

COLORING ONLINE AND PAINTING GAMES - http://www.coloringpaintinggames.com/
A free website for kids, parents and teachers, there are online activities to keep kids busy and entertained.

CRAYOLA CRAYONS CREATIVITY CENTRAL - http://crayola.com
Coloring pages, craft ideas, games and fun, pagers for educators, parents, kids, this site changes monthly. There are famous birthdays, invention anniversaries and special events calendars. Teachers can tap into this rich educator resource filled with lesson plans, art techniques, creative writing projects, science experiments, parent involvement information and the complete Crayola® Dream-Makers® program. Kids can get fun coloring activities, crafts to make, e-cards to send to family and friends, and games to play. You can become a member for free updates.
DAIRY COUNCIL OF CALIFORNIA - http://www.healthyeating.org/?Referer=dairycouncilofca
A site for educations, kids and families. The page changes monthly with a Kids' Cooking Corner and nutrition information. Sign up for more info free.


DLTK'S CRAFTS FOR KIDS - http://www.dltk-kids.com
This features a variety of fun children's crafts and coloring pages including projects for holidays, educational themes and some children's favorite cartoon characters. There are lots of printable templates suitable for ages 2 and up, including holiday crafts, and greeting cards.

<>

ENCHANTED LEARNING SITE - http://www.enchantedlearning.com
On-line activities for the little ones includes Bird Jokes, make a truck, nursery rhymes, dinosaurs, Kindercrafts, connect the dots and info about schools in Japan, Africa, Australia and Others. You'll love it - K-3. You don't have to be a member to use it, but for banner free pages you may want to join.



FILE FOLDER GAMES

– http://www.surfnetkids.com/resources/file-folder-games
What fun for day care, preschool and kindergarten specifically.



FIRST GRADE ACTIVITIES - http://www.ed.gov/pubs/CompactforReading/table1.html
First grade reading activities in reading and literacy skills. ALSO 2nd and 3rd grade links. Check it out!!

GAME AQUARIUM - http://www.gamequarium.com/
Games and activities, videos, ebooks and printables are included in this in all subjects. Just scroll past all the ads to find the link you want. Every subject, every grade is included..


IDEA BOX - http://www.theideabox.com/
All kinds of timely lessons and activities designed for the primary grades, including message boards where teachers can get together and offer support and ideas for one another. Subscribe to the free monthly newsletter to complete this exceptionally designed site.


JAN BRETT DOLCH WORD LIST - http://www.janbrett.com/games/jan_brett_dolch_word_list_main.htm
The Dolch words are the 220 most frequently found words. Students who learn these words have a good base for beginning reading. Many of these words cannot be sounded out because they do not follow decoding rules. These words must be learned as sight words.

JULIA'S RAINBOW CORNER - http://juliasrainbowcorner.com/html/ants.html
Links to interesting games for K-3

JUST DISNEY - http://www.justdisney.com/
This professional looking fan site is brimming with wonderful Disney stuff. Check out Sounds from Disney collection: "Hello Folks, Welcome aboard the Disneyland Railroad." They also have two great Disney biographies (one long, one short), an extensive filmography, and a fantastic Disneyland photo gallery (including aerial photos and 360 degree panoramas.)

<>

K-3 THEMES AT ENCHANTED LEARNING - http://www.enchantedlearning.com/themes/
Another great Enchanted Learning link, these themes have links to simple crafts, nursery rhymes, coloring book printouts, information, and/or quizzes based on the topic.

<>

KIDS EDUCATIONAL COMPUTER GAMES - http://www.turtlediary.com/?id=mailer
These online kids games by TurtleDiary start with pre-K amd teach great stuff – continents, math, the five senses, phonics, upper and lower case, times tables. You need it, it's here free. You can search for games, stories, worksheets by grade/age PreK-2. Try the Food Chain game for second graders. Really fun.
KID'S PSYCH GAMES - http://www.kidspsych.org/index1.html
Animated activities ideal for younger children. There's a set of tasks for ages 1-5 and another for 6-9. The games reinforce logic and reading skills in fun and engaging ways. None of the tasks are very time consuming, and there's always room to experiment and try again. Games include mazes, I Spy, and treasure hunts.
KINDERTHEMES - http://www.angelfire.com/la/kinderthemes/index.html
Mrs. Ayers favorite themes for kindergarden. Also includes her favorite web sites. IGNORE THE TOP AD BUTTONS AND SCROLL DOWN!

LEARNING PLANET - http://www.learningplanet.com/act/rats/ratslist1.asp?contentid=181
Click on activities. There are free games here.


LIL FINGERS STORYBOOKS - http://www.lil-fingers.com/
Lil' Fingers is a site for toddler age children with games, storybooks and coloring pages. Free stories, activities and holiday sections are designed with bright colors and big buttons for little fingers to click on.


LITTLE EXPLORERS - http://www.EnchantedLearning.com/Dictionary.html
You don't have to join to use this site. You can browse through the dictionary which contains 1,814 illutated enries. This is a picture-dictionary format for kid-friendly searches. Also available in French, German, Portuguese or Spanish.

MAKING FRIENDS AND OTHER CRAFTS FOR KIDS - http://makingfriends.com
Directions for making paper doll "friends" and other crafts. The site changes with the seasons, but choose a craft and the directions are printable, with pictures. You can't miss.

MARC SHEEHAN'S LESSON PLANS PAGE - http://www.halcyon.com/marcs/lessons.html
Some neat K-3 lesson plans

MATH FORUM: PRE-K LESSONS - http://mathforum.org/teachers/pre-k/lessons-individual.html
A dozen approaches to developmental Math concepts for the earliest learners; can be adapted for Kindergarten and primary grades.

<>


MR. ROGERS' NEIGHBORHOOD - http://www.pbs.org/rogers/
Won't you be his neighbor? Even though Mr. Rogers has passed away, you can still visit Mr. Rogers' House, his Neighborhood of Make-Believe, and take a tour or check out the Song List.



MRS. PROCTOR'S SCHOOLPAGE: SCIENCE AND SOCIAL STUDIES WEBQUESTS - http://www.angelfire.com/tx4/lessons/
On the classpage is weekly objectives, links for teachers, students, and parents, student work, district information and more for second and third graders.

NICKJR. GAMES - http://www.nickjr.com/games/
Simple, colorful games for the very young. Involves matching, recognition, and coloring games. NOGGIN us part of nickjr.. Requires Flash and Shockwave.


PBS KIDS - http://pbskids.org/
From Arthur to Zoom, this site has a bunch of kids' sites. Great!


PRE-K SMARTIES PHONICS RULES - http://www.preksmarties.com/reading/reading3.htm
The site has nice simple list of rules... great to hand out to your parent or help to create your own posters.

PRESCHOOL ACTIVITIES AND CRAFTS - http://www.first-school.ws/
Fun preschool lesson plans, educational early childhood activities, printable crafts, printable activities, calendar of events, and other resources for children of preschool age. The preschool lesson plans and activities are appropriate and adaptable for toddlers, children of preschool age and kindergarten level (ages 2 to 6).


PRESCHOOL AND PRIMARY RESOURCES - http://lone-eagles.com/webtour6.htm

SDL FIVE SENSES - http://www.sedl.org/scimath/pasopartners/senses/welcome.html
The Southwestern Educational Development Laboratory has created a wonderful five-senses unit for preschool and kindergarten teachers. Focusing on both abilities (such as hearing and seeing) and challenges (such as being blind or deaf), the unit includes lots of participation and activities. Each lesson begins with the reading of a popular picture book (such as "Brown Bear, Brown Bear, What do you See?" by B. Martin, Jr.) and all seven lessons are also available in Spanish.

Spend just three minutes at each site to appreciate the volume and quality of what's available, and then return to your favorite sites later for more in-depth exploration. Here are 30 minute mini-tours of the best resources on key topics.

PRESCHOOL EDUCATION - http://www.preschooleducation.com/
Many ideas to help with theme planning for home or classroom. There is a theme page and a list from alphabet ideas and arts and crafts to music and recipes. Check it out.

<>

PRIMARY GAMES, THE FUN PLACE TO LEARN - http://www.primarygames.com/default.htm
This site contains educational games and puzzles for elementary students. Games are added throughout the year, so be sure to bookmark this page and check back often!



QUIZ HUB -

http://QuizHub.com


This has an educational portal for elementary and middle school students. It features free online interactive learning games, puzzles, and quizzes. You don't have to sign in to use it.



READING AND LITERACY SKILLS FOR FIRST GRADE

- http://www2.ed.gov/pubs/CompactforReading/table1.html
Listed are 100 School-Home Links activities for the first grade. The activities are organized by reading and literacy skills appropriate to this grade. Under each specific skill, there are varying numbers of activities to help children develop their ability to read and write. For the categories that have multiple activities, you can download the entire section or the individual activities within that section by selecting from a pull-down menu.


SESAME STREET PRINT AND PLAY- http://www.sesamestreet.org/home/
On Sesame Street, type in coloring pages. Then choose the character you want. Or just play the game of the day. Fun.
SEUSSVILLE UNIVERSITY - http://www.seussville.com/seussville/
Seussville University is a site where you can have "lots of good fun that is funny" while learning basic reading, math, science, and reasoning skills. Your favorite Seuss characters serve as your guides in this brand-new interactive learning environment.

SHAPEBOOK PATTERNS - http://www.eduplace.com/rdg/hme/k_5/shapebook/toc.html
From apples with and without lines to t-shirts, treasure chest and umbrella, with and without lines, this is a neat place to find shapebook patterns to download in PDF. <>SPONGE IDEAS - http://www.inspiringteachers.com/classroom_resources/tips/classroom_management_and_discipline/sponge_activities.html
SONGS FOR TEACHING - USING CHILDRENS MUSIC - http://www.songsforteaching.com/index.html
Creative teachers can use music to teach content across the curriculum -- to students of all ages. We bring you some of our favorite ideas for using the magic of music in your lesson plans.

SPELLING WORKSHEETS FOR GRADE 1 + - http://www.edhelper.com/spelling_grade1.html
Complete Spelling Lessons! Reproducible Worksheets, Word Lists, Word Find, Fill in Missing Letter, Unscramble, Circle the Correct Word, Pronunciation. You can Receive the Answer Guide to Any Lesson! Receive the complete answers to a lesson condensed into only one e-mail! Click on the Table of Contents for grades 1-12.

SQUIGLY'S GAMES - http://www.squiglysplayhouse.com/Games/index.html
Online games for little ones, most which run using Java applets and on browsers version 4 or higher. Games include mazes, word finds, jigsaw puzzles, logic puzzles, picture matches, memory games and even sliding tile games. Screen a game to see how it works before offering it to your children.


STARFALL.COM (LEARN TO READ) - http://www.starfall.com/
Primarily designed for first grade, the website and companion printed materials are designed to be fun and to give confidence to young children as they learn to read. Begin with "ABCs" which helps learners recognize the relationship between letters and sounds. "Learn to Read" features one vowel to listen to, manipulate, read, and eventually move toward mastering sound-spelling. "It's Fun to Read" explores a variety of genres and topics to expand reading vocabulary and comprehension. The advanced section, "I'm Reading," transitions from learning to read to reading to learn. Primarily designed for first grade. Make sure to scroll down to view entire page; some content is below the Flash player and might be overlooked.


STORY NORY: FREE AUDIO STORIES FOR KIDS - http://storynory.com/
Wonderful audio stories, all narrated by Natasha Gostwick,Story Nory is an archive of stories old and new, with a brand new recording released every week. These can be listened to on the computer, easily transferred to an iPod, or copied to a CD for listening in the car. The stories are classified as Original, Fairytales, Classics, Educational and Junior (which are the simplest stories specifically for toddlers and ESL students.).)

ULTIMATE BACK TO SCHOOL SITE - http://www.teachingheart.net/backtoschool2.html
This page is part of the Teaching is a Work of Heart web site. It is a comprehensive collection of online resources targeting elementary classrooms. It includes all kinds of templates and suggestions for parent letters, parent-teacher conferences, lesson plans, thematic units, calendars, bulletin boards, pocket charts and more. There are a number of commercial pitches as you scroll down, but much of the offerings are online and free.


THE UNITED STATES MINT H.I.P. POCKET CHANGE - http://www.usmint.gov/kids/
An animated search for the birth of a coin. Cute animations and short interesting panels make this a must see.


UPTOTEN.COM - http://www.uptoten.com/
LINKS ro 1353 free bright kids games and 9010 school games under construction. There are coloring pages, games-puzzles-mazes ages 6 to 10, animated free greeting cards, and more. CUTE


<USING THE WEB - http://www.eduplace.com/kids/usingweb/index.html
Grades 1-2 has a lesson on learning from the web, 3-4 -- learching web sites and 5-6 -- evaluating web sites


WEEKLY READER GALAXY - http://www.weeklyreader.com
Parent, teacher, kid? Click on your choice and grade. This is the support for Weekly Reader paper, with lots of stuff for K-3. The site changes monthly -- so visit often.

<>

WHO AM I BOOK -

http://www.makingbooks.com/whoami.shtml


2nd and 3rd Grade book making plans and links to other bookmaking projects, and teaching tips



WORKSHEETS AND LESSON PLANS FOR TEACHERS AND PARENTS - http://www.learningpage.com/free_pages/home.html
A free downloadable lesson plan or work sheet - changes each week.


WRITE SOURCE - http://thewritesource.com/writing_topics/
You will find lists of ideas to serve as starting points for personal or journal writing BY GRADE LEVEL


ZIGGITY ZOOM - http://www.ziggityzoom.com/
For kids age two to eight, created by Kristin Pierce Fitch and her mom, illustrator Sharon Pierce McCollough, has online activities (games, stories and coloring pages), and plenty of offline activities such as crafts, printables, and fun kid recipes like Mermaid Bananarama. For a quick overview of the site, check out the Parent's Guide.


ZOOM INVENTORS AND INVENTIONS - http://www.enchantedlearning.com/inventors/
Enchanted Learning touts this easy to use A - Z listing of inventors, including a number of sub-categories by era, nation and high-interest topic such as communication, transportation and undersea inventions.

Last edited June, 2018



Also check Art Sites or click back to the Table of Contents
for Subject Matter Links