K-12 Projects On Line
by
Gina Otto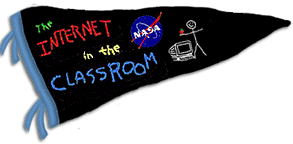 Image from Bring the Internet Into the Classroom
NASA Internet On-line Resources
SOME PROJECTS ON LINE

AMAZING TRAVEL BUREAU - http://kids.nationalgeographic.com/kids/games/interactiveadventures/
Sign in and when you pull something out of the bureau, it is the start of an adventure into the past, present or future. Seven games.


BLACKWELL'S BEST: INTERENET SCAVENGER HUNTS - http://www.vickiblackwell.com/hunts.html
Mini scavenger hunts for kids.


EDUCATION WORLD: INTERNET SCAVENGER HUNTS - http://www.educationworld.com/a_lesson/archives/scavenger_hunt.shtml
Dozens of suggeted scavenger hunts for every age group


EDUSCAPES: A SITE FOR LIFE-LONG LEARNERS - http://eduscapes.com
Collaborative learning/distance learning? Each week they explore a different topic in 42eXplore. There is an index for past topics and activities for the first timers. Internet sources are included. Check this out and explore!



FLAT STANLEY

- http://www.flatstanleybooks.com/
The all Flat Stanley website. Read the book, send Flat Stanley somewhere and interact with kids all over the country.


HOW DO YOU EAT AN OREO? - http://www.angelfire.com/mi/sans38/oreo.html
If you're new to online projects and would like to test the waters with a fun, non-threatening task, this may be the project for you! Students of all ages are invited to provide cookies and milk to subjects and record how they eat their Oreos: biting, nibbling, breaking, dunking, whole, or some other newfangled way) and then submit the data to the project to identify patterns of behavior. The emphasis here is on working with numbers and graphing, but the tie-ins to other areas of your curriculum are as numerous as your imagination!


MONSTER EXCHANGE - http://www.monsterexchange.org/
This interactive project entails cooperation between different classes. Check this out.

NASA QUEST - http://quest.arc.nasa.gov/
NASA Quest Challenges are FREE Web-based, interactive explorations designed to engage students in authentic scientific and engineering processes. The solutions relate to issues encountered daily by NASA personnel. Last fall was LCROSS Wayfinder (checking Polonesian navigation), and LIMA Quest Challenge (Antarctica). Check out this year's.



ONLINE PROJECTS FOR THE CLASSROOM - http://www.vickiblackwell.com/projects.html
You will find a listing of Internet projects, one of the easiest and most successful ways to break down the four walls of your classroom. You can participate in Bucket Buddies, read about Cinderella around the world, work on Earth Day Groceries, or one of many other choices.

<>PROJECTS BASED RUBRICS/CHECKLISTS -

http://pblchecklist.4teachers.org/


Wow! Just what the teacher ordered. A pull down menu for check lists for projects, writing, oral, science and multimedia. Just takes a minute and you don't have to do much. Just decide what you want to grade!!


PROJECTS - FROM SAN DIEGO -

http://webquest.sdsu.edu/


Webquests by grade level, or subject matter.-- click on project database and do a search by curriculum, grade level or other criteria.



SECRETS OF THE DEAD (The Witches' Curse)

- http://www.pbs.org/wnet/secrets/previous_seasons/case_salem/index.html
From PBS - the Salem Witch Trials as in interactive experience. Includes a Teacher's toolbox.


SOLAR SYSTEM SIMULATOR - http://space.jpl.nasa.gov/
A spyglass on the Cosmos. You can have the simulator create a color image of your favorite planet or satellite.

<>TEAMS DISTANT LEARNING - http://teams.lacoe.edu/
This is the Los Angeles County Office of Education site. INCLUDES History/Social Science, Math, Science and Language Arts lessons and units. Some projects are on-going, some have already been completed, but the directions are there for anyone to follow!



VIRTUAL FIELD TRIPS -

http://surfaquarium.com/IT/vft.htm


Collections and individual Virtual Field Trips from Surfaquarium's Innovative Teaching. An online field trip does not have to be just a visit to a physical location. Virtual field trips can take us inside a plant cell, along a body system, across constellations and through time. Once preconceived assumptions are set aside, virtual field trips redefine the limits of our physical classroom and our traditional concepts of teaching and learning.

VIRTUAL FIELD TRIPS PAGE - http://www.field-trips.org/trips.htm
This is the jumping off point to the field trips of your choice. Everything from beaches to volcanoes. To take any field trip, just click its name. If you have ideas for a trip you don't see listed, let them know!
THE VIRTUAL WALL - http://www.thevirtualwall.org/
This is a digital, interactive legacy, memorializing the 58,220 men and women who gave their lives in Vietnam. Visitors can upload text, audio or photo remembrances, participate in chat sessions with noted historians and journalists, and post information about upcoming reunions.
WIND TUNNEL - http://quest.arc.nasa.gov/aero/events/collaborative/wind_tunnel.html
Students will work online to duplicate the Wright Brother's research on aerodynamics and glider design done nearly 100 years ago; involves children in research, brain-storming, problem solving, design activities, collaboration with other participating classrooms and online experts, and learn the art of data collection, sharing the information with other collaborators.
ALSO SEE INDIVIDUAL CONTENT AREAS AND INNOVATIVE WAYS TO TEACH AND OTHER INTERESTING LESSONS,and WEBQUEST ARCHIVES
Learn how to use projects on line by going to my new How to Use Internet Field Trips site.
Last Updated April, 2013

.